You GUYS! Last nights dinner was so good that I have to share it with you. A lot of the food I make is super simple, so I don't usually post much about it, but this was goooood. And I'm really proud of how healthy it was. Even Jeffry liked it, beans and all! I'm still in shock....
Anyway here's the deets:
for the rub:
3 cloves garlic, grated
1 tsp cumin
1 tsp chili powder
1 tsp paprika
juice from 1/2 a lime
lime zest
Salt & Pepper
I also added a good shake of this stuff:
Buy the big container. It makes everything delicious.
I dumped everything in a zip top bag, threw in 2 organic, boneless pork chops, and gave it a good rub down. Then I popped that sucker in the fridge for a few hours while I went out to work in the garden.
Once Jeffry texted to tell me he was on his way home, I got to work on the sides. the beans are really just a concoction I threw together. I started with:
1/2 red onion, diced
1/2 jalapeno, seeded & finely chopped
2 cloves garlic, grated
I sauteed the veggies til they were soft, then added a good splash (probably about 1/2 cup) of chicken broth, along with a can of drained black beans. I also added a couple good shakes of cumin, paprika and adobo. I also added about a tablespoon on chipotle in adobo.
Chipotle in adobo comes in a little can like this. It adds great spicy, smoky flavor to things like chili, or in this case black beans. Rachael Ray has a great tip about working with chipotle in adobo. Since you never use the whole can at once, put the contents in your food processor (I used my magic bullet. super easy to work with!) and blend it up. Then put the sauce in a ziplock baggie, roll it into a log and pop it in the freezer. It will keep forever, and when you need some, just break a little off the end!
Then I just let the beans simmer away! Once we were ready to eat I did break them up a bit by pressing on them with the back of a spoon a couple times.
The rice is this recipe, except I substituted brown rice and did not add the oil (hello healthy!) I cooked the rice according to package directions, and also added some chopped scallion along with the lime juice and cilantro that got mixed in once the rice was done.
Oh yeah, and I also used the broiler for the first time! I would have loved to grill the chops, and they probably would have been soooo good that way, but our grill hasn't been out yet this year, we probably don't have any propane, and it's not so easy to grill at 10pm when Jeffry gets home. So instead I heated the house up to 500+ degrees on the hottest day of spring lol.
My grandma used to broil all the time but I had actually never done it. So how did I figure it out? Well Google of course! I lined our broiler pan with foil, preheated the oven and then slapped those suckers down! The chops cooked about 4 minutes per side and were perfect. Also, I'm a broiler convert. Pretty sure I'm broiling chicken tonight.
Sweet & Sticky Chicken
perhaps? Do we think Jeffry would try asparagus? Maybe we will just have green beans....
Check out how yummy this looks!!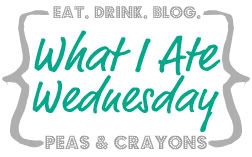 It's my first time linking up with WIAW!